Why UK membership in Erasmus+ programmes must be protected at all costs, even after Brexit.
Megan Lacey -
Guest Writer
Since the Brexit referendum on 23rd June 2016, the UK's future role within Erasmus+ has become unclear. Ambiguous statements from the UK government; the defeat of a bill that would have guaranteed full membership after Brexit; and the general mess of prolonged Brexit negotiations have left students and institutions across the UK (and the rest of Europe) confused. As Lib-Dem MP Layla Moran states, 'Staying in Erasmus should be a no-brainer, yet we have a fight on our hands to save it.'
What is Erasmus+?
Many people equate Erasmus+ programmes with the urban myth that students go away for a year to party, forget about university, and "find themselves". Of course, a bit of that does happen, but Erasmus+ is so much more than that. According to the European Commission, 'Erasmus+ is the EU's programme to support education, training, youth and sport in Europe. Its budget of €14.7 billion will provide opportunities for over 4 million Europeans to study, train, and gain experience abroad.'
Erasmus stands for the 'European Community Action Scheme for the Mobility of University Students' and is also the name of a 15th- century Dutch philosopher and scholar. The initial Erasmus programme was officially launched at the London European Summit in 1987. It sought to promote and finance connections between European universities and begin large-scale student exchanges.
Erasmus runs in seven-year cycles, the current being 2014-2020. Erasmus+ was formed at the beginning of this cycle in 2014 by combining the original Erasmus programme with the EU's previous education, training, youth, and sports programmes. Roughly 17,000 students from UK institutions participate in Erasmus+ programmes every year. That equates to '53% of all UK university students' that choose to spend part of their degree studying or working abroad.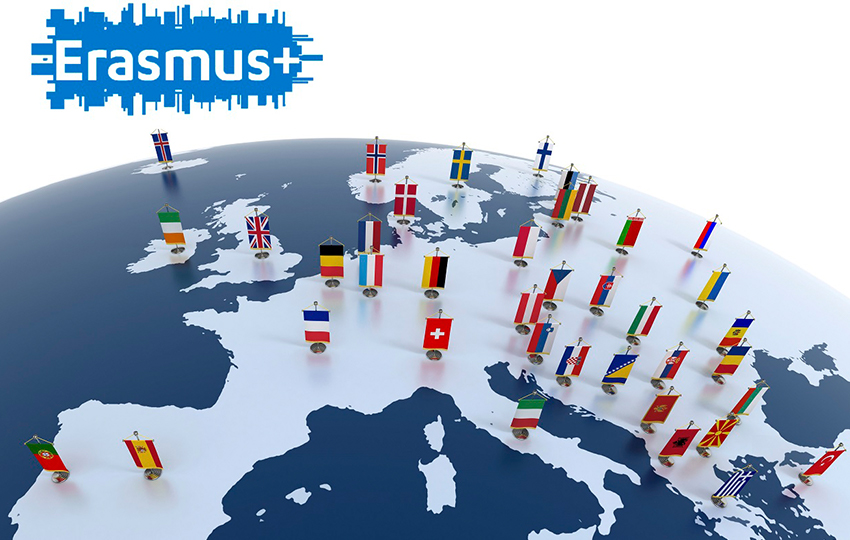 Figure 1: Erasmus+, iED
What are the benefits of Erasmus+ and what does the UK stand to lose?
The European Commission argues that 'Erasmus+ helps people of all ages and backgrounds develop and share knowledge and experience at institutions and organisations in different countries. It enhances skills and intercultural awareness and helps people become engaged citizens.'
Figure 2: Did you Know That...?, European Commission
Liberal Democrat MP Layla Moran has championed the benefits of the Erasmus+ programme in parliament and is fighting for the government to give an unambiguous answer as to whether the UK will be involved in future programmes. She argues that the benefits of participating in Erasmus+ exchanges are 'so obvious' and that they allow students to affordably learn new languages, develop skills, gain practical work experience, form lifelong friendships, find independence, and raise their confidence levels.
Vivienne Stern the Director of Universities UK International explains that 'without continued access to the Erasmus+ programme, 17,500 students a year could lose out on the opportunity to gain international experience.' Students with lower incomes would be disproportionately affected by a withdrawal of the UK from the Erasmus+ programme. Travel and international study should not be exclusively available to privileged students. However, many students have to rely on Erasmus+ grants to be able to take the opportunity to travel, study, work, and live abroad.
The benefits of Erasmus+ to individual students and institutions are clear to see, but the UK economy also 'benefits from graduates who bring global skills and networks to local businesses. In 2017, incoming Erasmus+ students generated £420 million in income for the UK.' Furthermore, 'In 2018, 51 427 participants in 741 UK projects benefited from mobility in higher education, vocational education and training, school education, adult learning and youth for a total grant amount of €121.03 million.'
Figure 3: Erasmus+ 2018, United Kingdom funding for Learning Abroad, European Commission
Hywel Ceri Jones, one of the creators of the original Erasmus programme in 1987, said that 'it is both ironic and depressing' that the confusion and doubt repeatedly created by the British government around the future of Erasmus+ happens to 'coincide with the release of the European Commission's exciting proposals for the next phase of EU development.' The changes that will be made in the next Erasmus+ cycle would greatly benefit the UK, but only if it is still a full member of the programme.
The next Erasmus+ cycle is due to take place between 2021 and 2027 and 'the European Commission has proposed doubling the funding … to €30bn (£26bn).' This increase in funding will significantly improve the services that Erasmus+ already funds. Research, training, work placements and student exchanges will all feel a positive impact. The UK will be missing out on investment and research cooperation opportunities if it decides not to be a part of the next cycle. However, since decisions and negotiations are being continuously delayed, 'even if the government decides it wants to participate in Erasmus after 2021, it may not be able to negotiate that in time for the start of the cycle.' 'There could be a period when such programmes are not available for UK participants.'
Figure 4: 2020-2026 Erasmus+ Budget Infographic, European Commission
Why is the future of UK membership in Erasmus+ programmes so uncertain and what could happen?
Boris Johnson has repeatedly stated that the UK's involvement in Erasmus+ is not under threat. However, he refuses to give anything other than ambiguous answers when asked about the government's position on the matter; Conservative MPs were instructed to vote against assuring UK membership in future Erasmus+ programmes; MPs have not been informed of any developments in Brexit negotiations for over five months; and time is running out – both in terms of the EU Brexit negotiations and the deadline for registering for membership of the 2021-2027 Erasmus+ cycle.
Depending on the outcome of Brexit negotiations between the UK government and the EU, there are three possible types of connection the UK could have to Erasmus+ programmes after 2020:
1. The UK could drop out of future Erasmus+ programmes (either for just one cycle or indefinitely).
2. The UK could continue to function as a full member of Erasmus+ programmes but reclassified as a 'Non-EU Programme Country'.
3. The UK could be reclassified as a 'Partner Country' with restrictions as to which Erasmus+ activities it could take part in.
The official statement by the European Commission on how Brexit will impact Erasmus+ is that, 'the possible participation of the UK in future programmes after 2020 will depend on the outcome of the overall negotiations on the future relationship between the two parties.' Similarly, the UK's current official stance on the subject is that 'the government remains open to considering participation in some elements of the next Erasmus+ programme, provided it is in the UK's interest to do so.' They also claim to be 'considering a wide range of options with regards to the future of international education exchange, including a domestic alternative.'
Nationwide attention on the Coronavirus pandemic has kept Brexit negotiations out of headlines and public discourse. Since the UK officially left the EU on 31st January 2020, there have been only extremely limited updates on the progress of negotiations. It is still unclear whether there will be sufficient agreement between the UK government and the EU to avoid a 'No Deal Brexit' in December.
As it stands, the UK is hurtling towards dropping out of Erasmus+ programmes completely when the transition period of exiting the EU is over at the end of this year.
Figure 5: Uncertain Future of Erasmus+ after Brexit, FE News
What is being done to try to combat the UK's withdrawal from Erasmus+?
The Liberal Democrats, headed by MP Layla Moran, put forward the following amendment, named 'New Clause 10', to the EU Withdrawal Bill on 8th January 2020 in parliament:
'Implementation period negotiating objectives: Erasmus+
(1) It shall be an objective of the Government to secure an agreement within the framework of the future relationship of the UK and the EU before the end of the implementation period that enables the UK to participate in all elements of the Erasmus+ programme on existing terms after the implementation period ends ("the Erasmus+ negotiations").
(2) A Minister shall lay before each House of Parliament a progress report on the Erasmus+ negotiations within six months of this Act being passed.'
It was defeated 344 votes to 254. After the defeat, Moran stated that Conservative MPs were clearly willing to throw away all the benefits that Erasmus+ brings to students and the UK. She called the result 'devastating'.
NUS has also launched a campaign to '#SaveErasmus'. As a response to the defeated 'New Clause 10' amendment, they are urging students to write to their MPs to persuade them to help save the UK's involvement in Erasmus+ programmes. They have prepared a template email so that all supporters need to do is find their MP's email address and personalise a few small sections of the email. They are also asking past and present Erasmus+ students to 'Join the fight' by sharing stories about how Erasmus+ has positively affected their lives so that they can begin to 'build the case for saving the UK's membership of Erasmus.'
Figure 6: #SaveErasmus, NUS
Concluding thoughts
From personal experience, Erasmus+ allows students to expand their personal and professional skillsets whilst meeting people from all over Europe and the rest of the world. Lifetime friendships are made, languages are learnt, and new perspectives are gained. We should do everything possible to try to salvage the UK's full membership of the Erasmus+ programme, before it is too late.
Erasmus+ grants fund irreplaceable opportunities. For some, the Erasmus+ grant is the only way they can afford to travel abroad. The British government needs to realise that the futures of many young people, as well as vital connections between academic institutions, depend on the UK's continued membership in Erasmus+ programmes. Students and institutions in the UK and across Europe need concrete answers and clear action plans to be able to prepare – mentally, academically, and financially – for their futures.
Sources
Erasmus+UK. "Participating Countries." Participating Countries | Erasmus+, 2020, www.erasmusplus.org.uk/participating-countries.
Erasmus+UK. "The Transition Period." The Transition Period | Erasmus+, 28 Feb. 2020, www.erasmusplus.org.uk/the-transition-period.
European Commission. "How Will Brexit Impact the Erasmus+ Programme?" Erasmus+ - European Commission, 2 June 2020, ec.europa.eu/programmes/erasmus-plus/about/brexit_en.
European Commission. "United Kingdom - Erasmus+ 2018 in Numbers." Erasmus+ - European Commission, 28 Jan. 2020, ec.europa.eu/programmes/erasmus-plus/resources/documents/united-kingdom-erasmus-2018-numbers_en.
European Commission. "What Is Erasmus+?" Erasmus+ - European Commission, 22 Oct. 2019, ec.europa.eu/programmes/erasmus-plus/about_en.
Eurostat. "Glossary:Erasmus Programme." Glossary:Erasmus Programme - Statistics Explained, June 2017, ec.europa.eu/eurostat/statistics-explained/index.php/Glossary:Erasmus_programme.
Jones, Hywel Ceri. "Celebrating 30 Years of the Erasmus Programme." European Journal of Education, vol. 52, no. 4, 2017, pp. 558–562., doi:10.1111/ejed.12251.
Jones, Hywel Ceri. "Horizon Europe: UK's Research Imperative – Hywel Ceri Jones." Social Europe, 12 July 2018, www.socialeurope.eu/horizon-europe-uks-research-imperative.
Liberal Democrats. "Our Plan for the Withdrawal Agreement Bill." Liberal Democrats, Http://Www.libdems.org.uk/, 20 Dec. 2019, www.libdems.org.uk/oppose-wab.
Moran, Layla. "Boris Johnson Says the Erasmus Scheme Isn't under Threat. Do You Trust Him? | Layla Moran." The Guardian, Guardian News and Media, 16 Jan. 2020, www.theguardian.com/education/2020/jan/16/boris-johnson-says-the-erasmus-scheme-isnt-under-threat-do-you-trust-him.
NUS. "Save Erasmus @ NUS Connect." NUS Connect, 2020, www.nusconnect.org.uk/campaigns-liberation/current-campaigns/save-erasmus.
Reality Check Team. "Erasmus: What Could Happen to Scheme after Brexit?" BBC News, BBC, 17 Feb. 2020, www.bbc.co.uk/news/education-47293927.
Ross, Trudy. "Layla Moran Voted down in Fight to Protect Erasmus Programme." Cherwell, 19 Jan. 2020, cherwell.org/2020/01/19/layla-moran-voted-down-in-fight-to-protect-erasmus-programme/.
Universities UK. "Erasmus+ Negotiations Will Not Be Included in Withdrawal Agreement Bill." Universities UK, 9 Jan. 2020, www.universitiesuk.ac.uk/International/news/Pages/Erasmus_withdrawal_agreement.aspx.